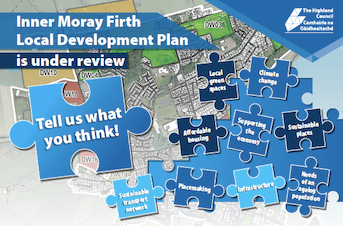 Shape Nairn's Future: Inner Moray Firth Development Plan Review Consultation CLOSED
Added at 21:55 on 16 February 2021
Get involved and give your view on the 'Inner Moray Firth 2 Main Issues Report'
Help shape the future of Nairn by participating in the Consultation now open for your comment and view of the Main Issues Report! All comments must be received no later than 5pm on Thursday 1st April 2021.
Overview:
The Highland Council is preparing a second local development plan for the Inner Moray Firth (covering Nairnshire, Inverness district and the eastern part of Ross and Cromarty) which will when adopted replace the Inner Moray Firth Local Development Plan 2015. The Plan shapes what development happens and where.
If you want to understand more about the plan review click here to watch Highland Council's video on the Inner Moray Firth Local Development Plan [IMFLDP].
Click here for the video explaining how to access the Report, read the parts that interest you and record your views on the consultation portal.
The Main Issues Report, which was published on 29th January 2021, asks for people's views on 9 Main Issues affecting the area, including climate change, economic recovery and delivering affordable housing. It suggests ways in which local planning policy and decisions can best address these issues. It also asks for people's views on development site options for every main settlement.