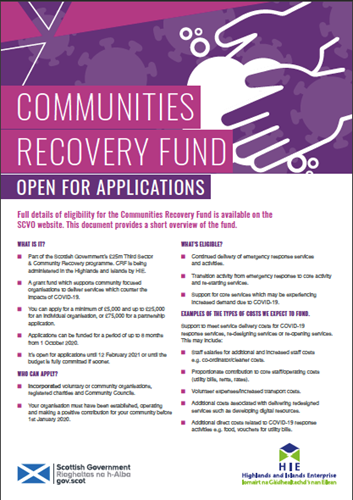 Communities Recovery Fund Open for Applications
Added at 22:44 on 10 February 2021
The Communities Recovery Fund is now open for applications.
Click here to view and download the Community Recovery Fund flyer.
Full details of eligibility for the Communities Recovery Fund is available on the SCVO website.
The Communities Recovery Fund is part of the £25m Third Sector Community & Recovery Programme announced by the Cabinet Secretary for Communities and Local Government on 2nd September 2020.
The Communities Recovery Fund aims to support community groups, charities, social enterprises, and voluntary organisations in supporting people and communities in responding to the challenges presented by COVID-19; which may be further impacted over the winter months and as we head towards recovery from the pandemic.
The fund is open for applications until 12 February 2021, or until the budget is fully committed (if sooner).